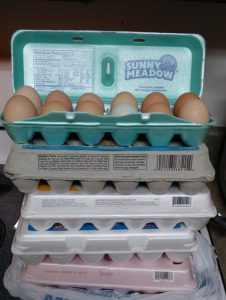 Yesterday I picked up seven dozen eggs from a farmer who lives just a mile down the road from my home.  No, it's not for an Easter-related event or even for a neighborhood picnic potato salad event.
It's simply for my family to eat.  We eat or bake our way through about three dozen eggs per week.
Yes, you heard me right!   We have to make room in the fridge to fit 84 eggs  but we manage it somehow.
Sound egg-stravagant?  Perhaps!  But we LOVE eggs!  What can I say?
I enjoy an omelette for breakfast almost every day.
The specialty breads I make require six eggs per loaf.  Yes, six!
If I bake a cake, I use an average of 10-12.  Since I bake almost exclusively with coconut flour, it requires more eggs for each recipe.
When a friend of mine asked around for egg cartons for an Easter craft project, I told her I could give her ten crates.  She seemed surprised that I had them in my car.  But I keep them and recycle them.  My farmer friend reuses them to restock me every other week.
Everyone around me is going crazy over eggs right now.  I see signs and postings around every corner for Easter egg hunts.
One billboard I passed in route to work said:"13,000 candy-filled eggs" will be dropped, hidden and given out here.
A different location further along my destination boasted 10,000 eggs, bounce houses, photos with a bunny and more.
I've read newspapers that the local mall is hosting its own egg hunt.  In addition, the baseball stadium, grocery stores and even restaurants are having their own egg-stravaganzas in each establishment.  In the past, I've heard that eggs were literally dropped from the sky in open fields for kids to find.
My co-worker shared a story with me of when she attended an egg hunt with her grandchildren a few years ago.  She said parents were elbowing their way past her to find the most eggs.  She even overheard one mom offering a coach-like pep-talk before the event, "Okay, kids, we're going to go in there and get the most eggs we can!  We'll get them all!"   I can envision shoulder pads and helmets on as they passed around the delectable colored eggs from one sibling to another before reaching the field goal (basket).
Now all of this seems too egg-stravagant to me!
So far, I consider myself lucky.  I've been able to avoid all the craziness of these large community events.
I simply have my kids hide and find eggs in our own backyard or in different rooms inside our home.  There is no one to out-do, no crowded lines to face and most thankfully, no outlandish parents and children to make us feel like a family activity is a competition.
I may be the crazy egg lady who consumes too many of them.  But I consider myself to be the sane parent who prefers to do my hunting and elbowing at home and in private.