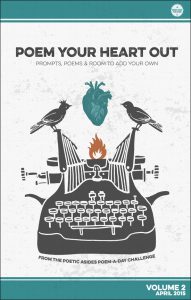 I'm continuing my journey in the Writers Digest Poem a Day (PAD) Challenge.  I went out of town for a few days so I was composing poetry from the car or a hotel room but I'm still working toward the one-a-day for a month goal.  I write my poems daily but I'm posting them here weekly, on a Sunday.
Below are poem #'s 2 through 5 that I wrote.  This has been a unique experience.  Some of my poems are fun and playful; others are dark and sad.  Whatever strikes me, that's what I write.
For Day 2 – we poets were prompted to write about a "Secret"
Many things came to mind for me – how my daughter cannot keep a secret, how I've guessed secrets in the past, etc.  However I was moved to write about a conversation I had with a co-worker in the past.  She was telling me about a job opening elsewhere and toying with me a bit like she didn't want to inform me about it.  The secret was really mine though because I had already heard about the position and I had already applied for it.  Here is that poem describing what happened:
PAD Poem # 2 – Secret Opportunity
I shouldn't tell you about this but…
That's how she began with me
What is it?  I played along
I knew what she was going to reveal
I had seen the opportunity
So few good ones come along
She smiled and turned her head
Toying with me for a bit
I wasn't going to beg
But I had to seem intrigued
We had a game to play after all
I already knew but had to be cool
Does she want me to leave?
Do I outshine her?
I work hard and motivate
She comes in late
Dodges the calls
Never completes on time
Finally she was going to give
Mention the job name and location
Oh that does sound interesting
I say politely and honestly
My face and body never alluding
That I applied for the position yesterday.
—————————
For Day 3 – we were prompted to write about "Machines"
First I thought about the movie Terminator 2: Rise of the Machines but that didn't inspire me to write poetry.  Then I thought about my own life and how I often feel like a robot in my daily routine.  I began to ponder my tasks and how they relate to machinery.  I thought it might be fun to write about a day in reverse.  Here is my end result below.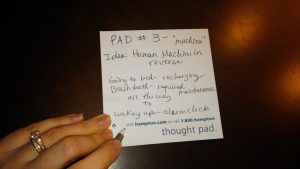 PAD Poem # 3 – Human Machine in Reverse
Crawling into bed- recharging the batteries
Brushing the teeth- required maintenance
Taking a shower- cleaning the parts
Eating dinner- refueling
Completing homework- installing and upgrading
Driving home- switching to autopilot
Eating lunch- checking for cookies
Work- activating robot sequence
Dropping off kids- overcoming bugs in the system
Driving to work- activating defense driver sequence
Getting dressed- operating in panic mode
Eating breakfast- installing virus protection
Exercising- testing mode and warranty check
Waking up- operating after snooze fails.
—————————–
For Day 4 – the prompt was "Departure"
The editor on the site mentioned places that have departures like airports and train stations.  But that wasn't what came to my mind.  As I wrote in the car driving home from our vacation, I thought of sadly departing this earth – what I hope it will be like but what I feel is the reality for most people…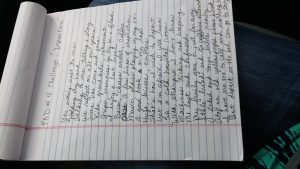 PAD # 4 – Departing this world
You sitting next to me
Holding my hand
Talking to me
Telling me a story
We reflect on all our years
Kids, grand kids, retirement
Trips, memories go by in a flash
I enjoy a last meal
Bacon, cheese omelet, coffee
A few lines of inspiration
Music, oldies, playing in my ear
A good book in my lap
Hugs, kisses, embrace
That is how I wish to depart
Yet I'm afraid I will leave
In a cold hospital room
With strangers I don't know
Machines ticking and beeping
Me lost and confused
My family gone or far away
Stale bread and no caffeine allowed
A faded and torn bible nearby
Atop an old yellow pages phonebook
I have no one to call and nothing to do
But depart so my bed can go to someone else.
——————————
For Day 5 – Easter Sunday – the writers prompt is "Vegetables"
I was happy to hear this – something easy.  Since I wanted to spend my morning with the family, I was grateful for this topic.  I already had a funny poem involving a vegetable that I had written and saved awhile back.  I copied and pasted it into the comments.  That ode is below…
PAD # 5 – Ode to Onions
Why do you always make me cry?
You and your multi-layers
Just peel it off already
So I can slice you
Dice you
And have my way with you.
——————————-
That's it for now.  Visit me again next week to see the poems I write in the coming days.  If you missed my first poem on day one or details about the challenge, read about that here. I hope to continue to "Poem my Heart Out" as the challenge says.
Happy Easter!