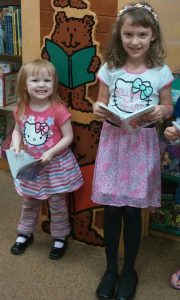 Parents and children love to read, especially during hot and long summer days. Local libraries and bookstores offer summer reading lists for parents to use as a guide and for kids to enjoy.  As a parent of two small children, I am grateful for this.  However, what if the reading list overwhelms both you and your children?  What if a nap schedule or other conflicts prevent you from attending the reading activity?  What if the library is too crowded for your taste?
With ingenuity, I created my own kids summer reading program in the summer of 2013. I used the "stay-cation" philosophy: I stay at home and form my own schedule for incorporating books into our daily routine.  Here is what I have been doing and what other parents like me can do too:
1. Read Old Books in New Ways – We don't really need new books.  We have plenty of "old" books that we can read in "new" ways.   I read to my children in the bathtub.  They love it. I adore the two-for-one-special – they learn while becoming clean at the same time. If the book becomes wet from their splashing giggles, well that's okay. It is our own, "old" book after all. We read monster stories in the closet using nothing but flashlights.  We take our books with us on picnics and park dates. We simply find an original way or place to make our current books feel new again.
2. Act out the story – My children and I act out many of the books we read.  My oldest daughter really loves a book called I love My Hair by Anne Matheson. In the story a girl named Emily looks in the mirror and says all of the things she loves about herself, her family and her life. She celebrates her own uniqueness.  My kids and I do the same thing.  We look into the mirror and comment on our appearances.  We dance around the room and state how great our lives are, just like Emily in the story. We recreate books in our own fun, dramatic ways. My daughters and I turn into pirates or pretend we have alligators for pets. The story does not end just because we turn the last page.
3. Play Wacky Games – The Dr. Seuss book Wacky Wednesday inspires my oldest daughter and me to play a "wacky game" where we say silly things about the world.  For example, we'll state that the sun shines at night instead of daytime. That is wacky. Or we say that fish live in trees. I encourage her to say whatever comes to her mind. We talk about how and why our responses are silly. This gives my child critical thinking practice. No equipment is required except for our brains. We play fun games like this in the car, in grocery store lines or anywhere the mood strikes us.   This can entertain your children for a lifetime, not just minutes or hours during the day.
These are several ways I go beyond the traditional reading lists and make books come to life in my home.  I plan to create a lasting love of literature for my children using these methods. What creative ways do you read to your children or how do you encourage them to read?
—————————-
(Note: This article was originally published in the Gulf Coast Parent publication, July 2013).