July has been an incredible month for me and for my writing endeavors.  So far August is shaping up nicely too.  I received word on Saturday, August 1st that I was the contest winner for the Omniverse Short Story Contest.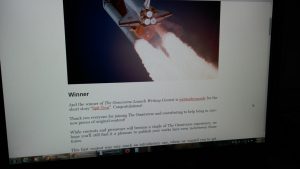 Over 150 stories were submitted but my piece, "Spit Tour" won.  This story (although fiction) is based on real events that my dad experienced during his drafted Vietnam tour as a Marine.  I wrote this over three years ago and I've been trying to publish it ever since!  I'm so thrilled to finally have it published and recognized.
The story is dedicated to you, dad, and for all other Vietnam and military veterans!  Thank you for serving us and keeping us safe even when others did not respect you or tried to make you feel bad.
Show gratitude to those who protect us.  Remember those that fought the battle even when they didn't sign up to do so.