Ever have an excellent idea pop into your head but then before you can take note of it, that notion slips away?  You strain the brain to remember it.  You curse the ghosts that took your innovative thoughts away.  The whole day passes by and then it returns the next one.  I wrote this poem about this experience, which just occurred for me recently…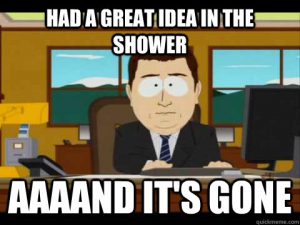 Disappearing Ideas (a poem) 
You are a sly, sneaky one
Trying to slip right by.
You brush just past my cheek
And look me in the eye.
The energy, the magnitude
You leave it with me here.
The great notion builds
But then you disappear.
Wait! Where did you go?
I search around. I yearn.
You dare to leave me breathless.
Come back. You must return.
These are the writing ideas
Jumping in and out of my head.
Creative tease, taunts and banter
Resolving to be fed.