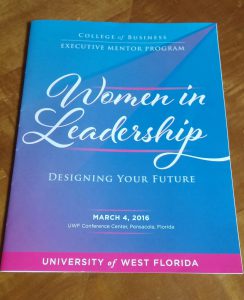 Today I attended the University of West Florida Women in Leadership Conference.  This inspiring event was put on by the College of Business.  The theme was "Designing Your Future" and it indeed conveyed the message that we female leaders can create our own path to success.
The conference included three main guest speakers. Two panels of female leaders also served as the attractions of the day.
President of the University, Dr. Judy Bense, kicked off the event with her honest and practical advice.  She referenced how being a leader is often a "lonely place, a painful place at times."  She mentioned that thick skin is needed.  Dr. Bense commented that leaders must "be flexible," "be an opportunist," and "take risks."  She said her greatest lesson learned after becoming President of UWF is that she learned how to listen and wait until others are done speaking before she speaks.  She knows that once she speaks, the dynamics in the room change.  Her legacy to the university is key in all she has done to build a program that began from nothing.  Today it's recognized all over the state and the nation.  Thanks in huge part to Dr. Bense, the incredible archaeological discovery of the first colonial settlement known as Luna was recently found.  Dr. Bense said she is the type of person who has always been good at the game and wanted to win.  The fact that she is a woman is just an aside.  She was a born leader and said her success is because she works hard and overcomes adversity.
Following Dr. Bense was the heartfelt storytelling of Mrs. Carol Carlin, President of Sacred Heart Foundation.  She spoke of her difficult childhood and being moved around into different foster homes.  Later she said that her upbringing does not define her or prohibit her from having success or reaching achievements.  In fact she felt blessed to have had the experiences she did because it made her more flexible, adaptable and diverse.  Carol discussed the importance of having mentors and especially being a self-mentor.  She encouraged the audience to study communication assessment tools and to seek out learning opportunities whenever possible.  Carol urged that we should "Be inspired to act!"  She stressed the importance of being on time and being prepared.  Carol shared her experiences in being involved with the John Maxwell team and how it helped shape her life.  She also told us how she met a young African American boy, Ramel Price, playing violin in Belmont Arts Center while taking a downtown Pensacola walk.  After hearing his beautiful music she asked he and his friend if they'd perform at a John Maxwell event in Pensacola of 10,000 attendees.  Ramel said yes.  At the event, Ramel and his family were surprised when Carol presented him with a music scholarship to attend Pensacola State College.  Now Ramel is attending University of West Florida.  You can tell that Carol is authentic and purpose-driven in how she wants to help others and pay it forward as she was helped by her music teachers and mentors.  She referenced these five keys to success: positively influence others, have strong interpersonal skills, draw on personal accountability, possess self-management, and have goal achievement abilities.
The first panel of the conference included a team of powerful ladies who spoke on "Leading through Innovation." The panel included:
– Jennifer Grove, Community Development Manager, Gulf Power Company – Moderator
– Debbie Calder, Executive VP, Greater Pensacola Operations, Navy Federal Credit Union
– Dr. Sharon Heise, Associate Director, Florida Institute for Human & Machine Cognition
– Dr. Pamela Northrup, CEO, Innovation Institute, and Senior Associate Provost, University of West Florida
– Dr. Mary Mehta, Chief Medical Officer & Pediatric Cardiologist, Nemours Children's Clinic
Each of these women had interesting, relevant stories and tips to share with the attendees.  Jennifer Grove was a great moderator for the group allowing them to share insights and encouraging the audience to participate.  She was a professional and recapped the speakers perfectly. Dr. Pam Northrup encouraged us to "Listen to the drum beat" and not be afraid to follow it, even if it takes us in new directions.  She later had the room laughing when she said, "Culture eats strategy for lunch," stressing the importance of knowing the work culture and adapting to it when the usual strategies do not work.  Debbie Calder said she didn't volunteer for new tasks.  She was often "voluntold" to do it by a supervisor and even though it took her out of the comfort zone, she excelled and continued to climb in her career desires.  Dr. Sharon Heise said she made many plans but that "plans rarely survive contact with reality."  She also stressed the importance of diversity and multiple perspectives adding value to experiences.  Dr. Mehta urged the success of working in teams, giving her experiences in helping doctors and hospital personnel find a common group and move past personal and professional differences.
Following a short break the second panel of the day began.  This dynamic team had more thoughtful, helpful tips for the conference attendees.  Their discussion centered around the topic "Juggling whilst climbing the mountain."   The panel included:
– Rachael Gillette, Director of Professional Development, Studer Community Institute – Moderator
– Christina Doss, Managing Director, Saltmarsh Financial Advisors
– Lisa Reese, President & Publisher, Pensacola News Journal
– Amie Remington, General Counsel, Landrum Human Resource Companies, Inc.
– Kimberly Wyatt, News Director, WEAR-TV/WFGX-TV
This panel kept the energy in the room going.  Rachael Gillette delivered on her promise of moderating a top-notch group of women.  Lisa Reese said she takes on more responsibilities because she views it as a window into her community.  Amie Remington commented that she asks herself three questions before she considers taking on a project: Do I have time for it? Am I passionate about it? and Am I going to be good at it?  She also shared how she stays grounded by committing to two simple goals every day.  Kimberly Wyatt remarked that attitude defines a winner.  Christina Doss suggested that it was a good thing to be that "go-to person."  She shared her story of how she asked to attend a training that her managers she was supporting was attending.  They said yes and after that the office changed in her favor since she showed she was willing to learn and wanted to be on their level.  All of the women said that being fearful of things is a good thing and that is a sign to take on a new challenge.  In fact they all said to run toward it.  The panel stressed the importance of being open to new opportunities, even ones vastly different than we can imagine.  These leaders stressed the importance of having friends and making time for female relationships.  Feedback – learning to give and receive was also mentioned as being critical to leadership success.  Final tips included letting go of things we cannot control, learning to say no or I'll get to you later and having employees come to you after they have exhausted ways to problem-solve the issue.
One idea that seemed to resonate with the room was the notion of creating a dream board. The speakers each said that it's important to create a career map, to draw out a plan. However they said it's normal and okay to veer off course, take a detour and even go backwards at times.
The final speaker was Dr. Katrice Albert, Vice President, Office for Equity and Diversity, University of Minnesota.  She didn't disappoint.  In fact she heightened the enthusiasm and positive momentum in the room by bringing the whole conference together with her own "pearls of wisdom."  She told a great story of how her younger brother said the letters she wrote him mattered to him and how everything we do matters.
She offered these great leadership takeaways:
1. Know your leadership style and own it – whether it's purpose driven, principle driven or transformational.
2. Strive for the gold standard – obtain the training you need to be successful and learn to write to become an authority figure in your field.
3. Chart your own course. Don't wait for things to happen or for someone to hand you an opportunity.  Take initiative.
4. Leaders understand the power of gratitude. Mentor others and be mentored.  Lift others. We get nowhere alone.
5. Create a career plan.  Map out the next course of action and move on to that next best thing.
6. Be an effective communicator.  Master the art of public speaking.  Master the art of technical writing.  Both are important to leadership.
7. Keep your sense of humor.  You'll need it as a leader!
8. Live the notion of being true to yourself.  Be authentic.  Learn the things you love and love to do and indulge in them (wine, chocolate, etc. were mentioned).
9. The way you overcome being overwhelmed is to do radical self-care!   Learn to liberate yourself emotionally and wind down.
Her final words were that we always have choices to make and we should "wrap our arms around" all the great thoughts that were shared in the room today.
What a fantastic event!  Thanks UWF College of Business for putting this on!
Great job to coordinators Dr. Sherry Hartnett, Katina Hoffman and other COB staff who made it happen.  I'm ready for 2017 already!
——-