Our family took its first real vacation in nearly a decade.  We traveled to Sevierville, Tennessee (located near Pigeon Forge and Gatlinburg) with another family–our very good friends.  This spring break getaway was the the most relaxed my husband and I have felt in a year or longer.
We rented a cabin in the Smoky Mountains.  We had tentative ideas on how to spend our trip but we did not adhere to a strict schedule or times.  We kept it open and even changed our minds a few times for our activities.  The experience was wonderful.
Each day began with a gorgeous view of the Smokies and cool, crisp temperatures.  I sipped coffee and listened to woodpeckers close by pecking away at tree bark.  I welcomed the slower pace, not realizing how much I needed it (even craved it desperately).  Often I sat back as a quiet observer, just watching my family or our friends.  My two girls played with their pals.  They chose board games and several rounds of the classic hide-n-seek.  All four girls laughed and played.
My husband and I snuggled and held hands.  I could listen more intently and even breathe more easily.  Although not meant to sound vain, I looked better too.  My hair softened and was less unruly in the mountain air (no humidity!) My skin was clearer and felt less wrinkled due to no stress or anxiety.
Mornings were my favorite time when the world was still waking up and the possibilities of the day were still beginning. I saw my two girls find me after they awakened, each with one eye open and a lack of balance.  They would greet me with a hug and excitedly ask what we would be doing that day.  My husband cooked eggs and I baked bacon in the oven until it was crisp.
Each day was different.  Thursday included a hike and museum visit.  Friday included exhibits, family photos and a market street exploration.  All activities were met with appreciation and awe.  I tried to savor each moment, just as I savored our feast at the Paula Deen restaurant one evening.  I can still visualize our pot roast, cheesy meatloaf, green beans, biscuits, yams, ooey gooey dessert and several more fixin's that left my mouth watering.
Our last night we celebrated the trip with time spent in the cabin's hot tub.  We drank mimosas and talked about the fun we had.  Did you know that champagne and a warm Jacuzzi go well together? They do!
Nothing could break my good mood, not even the occasional sibling rivalry moment between my kids or traveling backwards to retrieve a left-behind item.  This was our vacation.  I was going to enjoy each second of it.  And I did.
I reached a much-needed relaxation point.  Somehow I managed to stay at that peaceful height for the entire trip.  I read two fictional books in the car.  I rarely looked at my phone or used it, except to take pictures.  I took in my surroundings and kept the experience low-key.
My only regret is that we did not stay on our trip or in the cabin for another day or two or month or year or even lifetime…  In fact, at several points, I began questioning my home in Florida wondering if I live in the right state and region.  Eastern Tennessee is so beautiful and enticing.  I suppose a region so vastly different from my own just naturally carries envy and appeal.
One thing is definite – I am humbled and in love with the slower pace I was granted for nearly a week.  On the last morning, I wrote a poem about the trip and finished my last cup of coffee while relaxing aside the mountain top:
Take a hike
Take it slow
Turn on fireplace 
Watch it glow
Settle in
Open the heart
Breathe deeply
For a new start
Nature erases
The heavy toll
You have what you need
A happy, fulfilled soul.
I took it all in as best as I could.  I reminded myself of the many blessings in my life.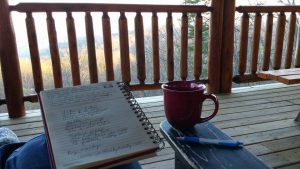 I plan to slow my pace going forward.