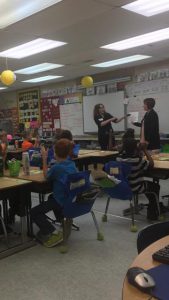 Eighteen pairs of eyes gazed at me as I explained the term entrepreneur. I gave a 45 minute lesson plan on business tips for second graders to Denise Moore's class at Beulah Elementary School on April 6.
I give presentations often for my employer, the Florida SBDC at UWF, but I was most nervous about speaking to these second graders.  My daughter Vivian was among the crowd I spoke to offering tips on business planning and delivering a sales pitch.
Beulah Elementary School will hold its annual Market Day on May 6 when students sell their homemade products or service to other students.  Boys and girls will use pretend money they have earned to make purchases.  Second grade teacher Cathy Graves began this lesson plan fifteen years ago after completing a "Mini Society" workshop that covered economics.  She remarked, "I have only received compliments from parents since I implemented this project at Beulah."
Market day is designed for students to put their economics lessons into practice. Planning for it begins six to eight weeks prior. Second graders learn a lot about consumer product and demand.  They create a store, make open and close signs, determine product prices and make payments for their goods. Students earn money by doing jobs in the classroom.  They are even paid bonuses for good behavior.  The teachers ask them to pay "rent" for their desks or charge a "moving fee" if their desk is relocated.
Principal Monica Silvers emphasized, "These are wonderful, practical applications for our students to learn about how the economy works.  Teachers like Mrs. Graves and Mrs. Moore make it fun for their classes to learn the value of money."
When my child brought home the school project, I immediately decided to reach out to assist in the classroom. I contacted Mrs. Moore with my suggestions to teach a mini-lesson to her class about the what, how, and why of business-planning.  I knew I could offer tips on how students can sell their products too.
My lesson plan included bringing in an actual product to engage students and invite their feedback.  I brought in a "beach in a box." In addition, I spent two hours developing the lesson plan, creating handouts, and coming up with ways to hold interest from seven to eight year olds on business, an often complex topic.
I definitely gained more appreciation for the time and effort teachers like Mrs. Moore put into developing learning activities for children like my own.  I was glad to give her a small break so I could share my knowledge on business to help her class prepare for Market Day.
Moore thanked me for coming in to speak with her students.  She said I delivered valuable information to her class that will carry over to Market Day.  The students were engaged and excited during that short period of time, especially Vivian; she didn't know I was coming in as a guest speaker.
The transfer of skills from school to real life is evident.  Moore explained, "Lessons like this teach real life experiences.  Many of the kids grow up to be property and business owners.  Our mini society lesson plans and Market Day provide valuable tools to make them think about saving and not wasting it.  My students will have limited dollars to buy the things they want on Market Day.  They quickly learn that money they have earned does not last long."
If more parents, teachers, organizations or schools wish to learn more about how to set up their own Mini Society or Market Day, they can contact the school's project organizer Cathy Graves via email at Cgraves@escambia.k12.fl.us or they can call Beulah Elementary School at (850) 941-6180.
(Contributors to this article include Denise Moore, Cathy Graves and Monica Silvers.  Thank you!)