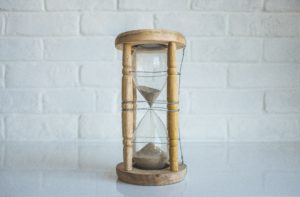 Have you ever really put thought into your day and recorded how you spend your time? On New Year's Day 2018, I did just that.
I was intentional in how I spent my day, hoping that it could perhaps set the tone for the year ahead. I made time for each member of my family. I did things to promote good health. I prepared ahead of time. I did a few chores without complaining. I made time for intimacy. I even made time for leisure activities I enjoyed, such as reading and writing.
Did my kids argue throughout the day? Yes. Did I diffuse and distract them? Yes, on several occasions.
Did I do everything I set out to do? No… but I came close.
And that's my point. I can accomplish a lot when I stay focused and set my mind.
Sure, some days I may want to be a lazy and total slug. And I won't feel guilty over that.
But I can make more moments count. I can stop giving excuses. I can stop rolling my eyes or complaining because that takes up time when I could be enjoying myself.
I can start doing and stop just saying what I should do.
How are you spending your time? How do you want to spend your time this year? Are you being intentional?
I realize that I don't have to make every single minute count but I can be positive and when I'm in that "let's get this done and have fun" mindset, I can have a truly productive, memorable and quite satisfying day.
Here's to more days like the first one in 2018…
My day's breakdown:
Wake up.
Hug and kiss my spouse.
Complete two sun salutations and take deep breaths.
Put dirty laundry in the washing machine.
Drink coffee.
Hug and kiss my spouse again now that I'm more awake.
Let the dog outside and feed him.
Complete a 15-minute overall body fitness routine.
Help my spouse cook breakfast.
Move clean, wet clothes from washer to dryer.
Hug and kiss my oldest kid.
Wake up my youngest kid. Then hug and kiss her.
Eat breakfast as a family.
Brush teeth.
Cook two meals to prepare for the week.
Fold laundry.
Look at the schedule for the week.
Do some writing.
Write a few pages and ideas for new story.
See what kids are doing.
Let the dog outside.
Spend intimate time with my spouse.
Do another load of laundry.
Put away cooked meals.
Play music and dance and sing.
Eat lunch.
Let the dog outside.
Paint my youngest kid's finger nails.
Help kids brainstorm ideas to decorate their art supplies.
Contact babysitter to confirm her schedule for tomorrow.
Read a chapter with my oldest kid in the book we're reading for mother-daughter book club.
Help kids with a puzzle.
Make a simple, homemade ice cream at request of kids.
Eat that ice cream with the kids.
Complete a 10-minute booty workout.
Complete a 10-minute arms workout.
Feed the dog and let him outside.
Put away the dishes.
Do volunteer work (30 minutes of writing).
Heat up dinner.
Eat dinner together with the family.
Help kids write in their daily calendar something to be thankful about.
Fold more laundry.
Relax in the hot tub with my spouse.
Take a shower.
Help kids with bedtime routine.
Put kids to bed. Put dog to bed.
Watch one show on TV.
Brush my teeth.
Go to sleep.
Be hopeful that I can repeat this again someday.
————————————————————-