I am always up for a new challenge.  I have been known to even create my own challenge in the past.
When I saw that Writers Digest is having a Poem a Day (PAD) Challenge for the entire month of April, I thought…Hell yes, I'm doing this!   The contest encourages all participants to write a poem using the daily writer's prompt every day in April.  Random poems will be selected and a few winners may be published in an anthology next year.  How cool would that be?  AMAZINGLY-COOL!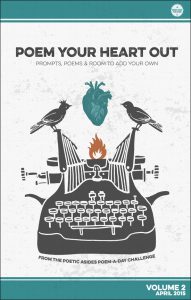 I won't be able to post my poems daily here on this blog but I will recap them at least once per week.  I will start with day one now. Then you'll have to come back in a few days to see what else I've written.  Will you accept that challenge?  🙂
For Day One (1) – We were told to write about "Resistance"
This is no April Fool's joke either. 
Hmm, resistance…I meet with a lot of resistance in my life.  I resist hitting the snooze button.  I resist urges like an extra helping of chocolate candy.  I resist saying something that I may regret later to a co-worker.  For this though, the first thing that came to my mind is my children – how they resist me and I resist them back.  I only had about fifteen minutes during my short lunch break to come up with this poem that I submitted (below).
————————————–
Here is my PAD poem #1- MOTHERING