The world needs more children's books.  And more adults need to read them in this uncertain, disturbing society that we often live in.
As I read book after book to my kids today, I heard all the important messages that we adults need to remember.  I felt uplifted and hopeful after hearing simple reminders of:
– how to be a good person,
– how to handle yourself in disaster situations (bee attacks, dragon fights),
– how to handle a bully,
– how to be happier even when you're not feeling that way,
– how to handle being afraid,
– how to be a good neighbor,
and so much more.
Take this one by author and illustrator Nancy Carlson called Think Happy.  Without giving away all the details of the book, here is a collage I made with some of the key points about her simple but elegantly stated story: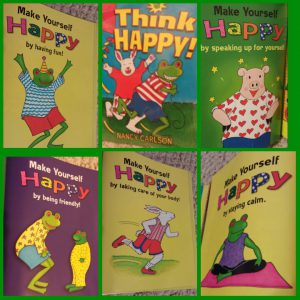 Carlson says we need to think happy and make ourselves happy.
She suggests that we:
– Be happy by having fun.
– Be happy by speaking up for ourselves.
– Be happy by being friendly.
– Be happy by taking care of our bodies.
– Be happy by staying calm.
Why do we forget these simple rules and solutions as adults?  Why can't we play in the sandbox like we did when we were kids?
We need to read more children's books.  I've decided that.
I'll say it again.  We need to read and understand the messages of kindness, love, hope and coping in children's books.  We need to apply it into our own lives. I stand by that.
We also need to support and keep our libraries open.  My two children and I visited our local library today.  I proudly state that it was my 8-year old's idea to make the trip.  It was our first visit since the summer began and we spent nearly two hours in the children's section.
The library is more than just a place for books.  It's full of history.  It serves as a gathering place for people who don't have an alternative. Ours has puzzles, games, puppets and paper and crayons to doodle.  It also has really helpful, kind people on staff.
I nearly pulled my back out this afternoon because we loaded up on books. My kids and I left with 30 books, 5 movies, 2 photos taken with the scenery, and 1 new library card for my youngest daughter (age 4). Thankfully I brought a bag to carry most of them in.  But I fear I pulled a muscle.  It's for a good cause though – exercising my mind and offering me a reading adventure.
I let my children pick out the books they want but I make suggestions as well.  More often than not they like the selection I give them.  After all, I knew them well and the types of characters they will enjoy reading about.
I wrote a children's book last year.  That book has been beautifully illustrated. Now it's moving into the next phase and it's getting closer to being published.  I'm so proud of it. I'm so amazed that it's all happening to me. Soon to the kids in my region and beyond will be delighting over it.
In the book I wrote a message of hope.  With it, I wish to help children in my community and beyond.  I don't want people to give up.  I won't give up.
I will remember the lessons I've learned.  I will teach them again to myself and my children.
I will eat green eggs and ham.
I will transform into a butterfly.
I will remember that there's a friendly monster at the end of the book.
I will remember to have joy and laughter and hope.
I will read more children's books.