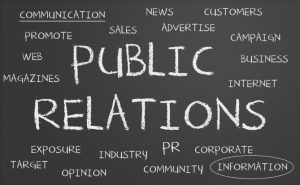 I attended the Florida Public Relations Association (FPRA) Pensacola Chapter Annual Media Panel on July 16, 2015.  Six local media professionals spoke about public relations culture, evolving technology changes, social media usage and best PR practices.
The panel included Andrew McKay of News Radio 1620 AM, Auriette Lindsey of WEAR TV, Brent Lane of Cat Country 98.7 FM, Tom Ninestine of Pensacola News Journal, Shannon Nickinson of Pensacola Today and Josh Newby of Ballinger Publishing.  Over 60 people, members of FRPA and community guests, attended this event.
The three main takeaways I gained from this panel for public relations professional success were:
1. Adapt
2. Know the facts
3. Respond well with passion
Adapt
All members of the PR expert panel agreed that professionals working in public relations must adapt to the changing technological world we live in.  Each shared their evolving experiences from working in the media over the years.
Shannon Nickinson, Editor of Pensacola Today, remarked how devices have changed since her early days in journalism.  "We must adapt to how we deliver the news.  Today we watch streaming videos. We read headlines on our phones.  The story telling experience has changed greatly."
Tom Ninestine, Opinions Page Editor of the Pensacola News Journal, commented, "Our readership is more digital than it used to be but we're fortunate to still have a core of print based readers in our community. Circulation is up and we still have advertisers in our paper."
Brent Lane, Morning Show Personality at Cat Country 98.7 FM, shared his early career experience of going from hundreds of radio station companies to his industry only having three major corporations now.  He said, "We are fortunate in Pensacola to be part of an independent, locally owned radio station like Cat Country."
Josh Newby, Editor of Ballinger Publishing, recommended that public relations professionals use social media sensibly.  He suggested PR folks to "have a hook" and "know (their) audience" in order to "break through all the noise" that becomes information overload on social media sites.
Andrew McKay, Talk Host of 1620 AM, mentioned two local popular news stories that made national headlines this week: the Pensacola Blues Angels flyby video and the lightning storm at the Blue Wahoos stadium.  Because of shares on social media sites like Facebook, McKay said these videos became countrywide news.
Auriette Lindsey, Producer at WEAR TV, revealed that television guests and stories often come easier to her station now because of instant responses on sites like Facebook.  She added that new segments spring from a Facebook post as information is shared.
Panel members then discussed the advantages of actively participating on social media sites.  Lane referenced the "What's Trending" side bars on Facebook as a tool to gain ideas for news and radio segments. Newby advised that Facebook is a two-way communications and public relation professionals can work to engage audience in a conversation.  McKay revealed that he uses Facebook as a way to contact people in an easier, more effective manner.
Know the Facts
For agencies to gain the trust of PR professionals, their representatives must know the facts and be able to share them on command.  Panel members offered their best practice tips for public relation workers in the room.
Nickinson said she wants to work with PR people who are "responsive, easy to find, know their subject matter and can make their stories stand out."  She recapped the facts of journalism, reminding listeners that the "who, what, when, where, why and how will always be important."
Lane added, "We want accurate, relevant news to share with our audience."
Lindsey detailed that two types of stories exist: a "nuts and bolts" story that tells the facts and a more "in-depth" public relations piece that goes into detail on something that makes a difference.  PR professionals must learn the difference and use each to their benefit.
Ninestine commented that communication is a two-way street between media groups and public relation professionals.  "We want to share your news but we must be fair and tell the truth."  He advised that PR people know the deadlines of their media and follow them for enhanced coverage.
Respond well with passion
Nickinson suggested that professionals "coach up" their staff as needed when it comes to communicating more effectively with the media.
Lane added, "Don't put your organization's board member on the radio or place them on camera if they don't speak well.  Send us a passionate, determined individual that will engage the listeners."
Lindsey suggested that if a business or organization leader will be on camera, then she or he should "speak in sound bites."  For television segments, participants being interviewed should talk concisely and keep responses to fifteen seconds or less.
Panel members shared comments on bad news as well.  They told participants that news won't always be good and that's okay.   Ninestine reminded audience members that when those times occur, the bad news isn't personal.
McKay pointed out that media groups like 1620 AM want "to know all sides of the story.  Even if we don't side with you, contact us again for a follow-up."  Ask to reengage the issue.
Responding in a timely manner is important, even if an incident involves a mistake or story that an agency does not want to reveal.  Ninestine said he does not like to print "not available for comment" in the newspaper but when calls aren't returned and statements are not given, the PNJ will do that.
Lane mentioned, "We are all relationship people" to the PR professionals in the room.  He added, "I want to be a resource for you and you want to be a resource for me" so communicating with each other even in crisis times is vital.
The panel closed by opening up the floor to questions from audience members. Participants inquired about media deadlines for submitting materials and briefly discussed the future of print media.

What's Ahead? 
I left this event feeling competent in my current public relations abilities.  I have adapted throughout my career.  I take time to learn the facts before sharing or writing them.  I prepare in advance so I can respond well.  Nearly everything I do involves passion, especially when it comes to my writing.  So I have the three best practices covered.
I had already interacted with most of the media group there both for my professional job and my freelance work I perform on the side.   I have successfully pitched ideas and news stories that gained attention for both my employer and for myself.  I am already a sharp PR professional but with these three tips and reminders, I will enhance my success even more.